Qualifications
Bachelor of Laws (Honours)
Accredited Specialist – Criminal Law
Professional Memberships
Admitted in the Supreme Court of Victoria
Law Institute of Victoria
Maddie on LinkedIn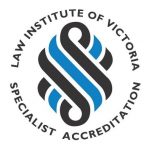 Maddie Carroll
Maddie completed her Bachelor of Laws (Honours) at Monash University. Having been with the firm since 2013, in 2020 Maddie was appointed Senior Lawyer and became an Accredited Criminal Law Specialist with the Law Institute of Victoria. Always intending a career in criminal law, Maddie's under graduate studies involved an emphasis on the criminal law, receiving awards and Dean's recognition in Criminal Procedure, Criminal Investigation and Ethics.
Maddie has acted as both Counsel and instructing solicitor in a number of Royal Commission hearings both in Melbourne and interstate. She is experienced in drafting witness statements and compiling written submissions, as well as being well-versed in the procedural and practical aspects of Royal Commission public and private hearings.
Since joining the firm in 2013, Maddie has developed a strong rapport with clients and professional contacts. Underpinned by an advanced understanding of the procedural aspects of the Court system and day to day running of the firm, Maddie has excelled as a lawyer in Court since her admission to practice.
Maddie appears in the Magistrates' Court for all criminal matters on plea hearings, bail applications, mention and contest mention hearings as well as carrying a large number of committal stream cases from filing hearing through to trial stage. She is an experienced advocate and both appears as counsel and instructing solicitor in County and Supreme Court trials, appeals and bail applications.
Maddie also practices in Intervention Order matters for both Applicants and Respondents in the Magistrates' Court and in Intervention Order appeals to the County Court. She has extensive experience in both Family Violence and Personal Safety Intervention Order matters and appears in Court for these matters regularly. While the firm does not practice in family law, the sometimes-inevitable overlap between family law and Intervention Order matters can be bridged by referrals and strong professional relationships with family law solicitors and barristers.